Candles and Essential Oils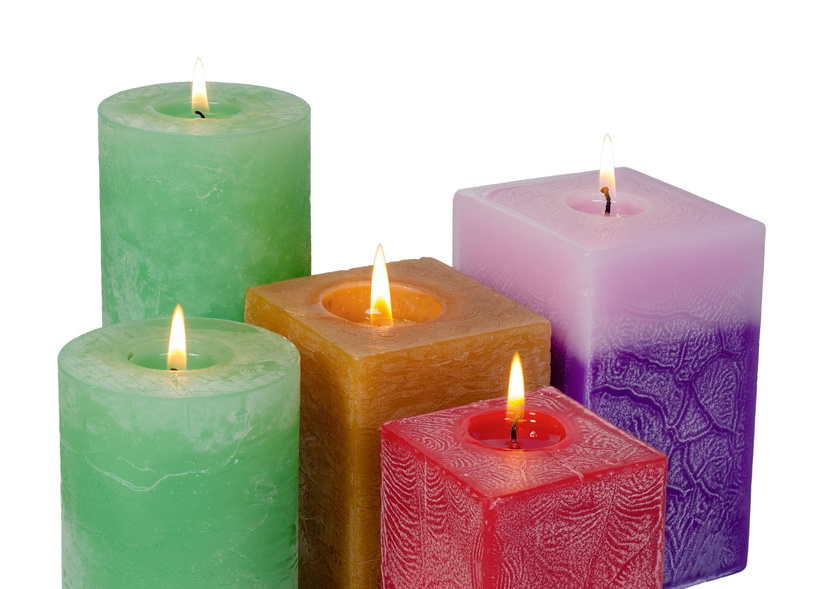 Candles have been used for centuries in all manners of rituals.  They can enhance meditation and spiritual practices, cleanse negative energies and promote healing on all levels: mental, emotional, physical and spiritual.Candles hold many different meanings and functions. They are ceremonial, ritualistic, symbolic and utilitarian all at the same time. They can shine bright or glow dull. They can flicker or synchronize movement with other candles, and they can blow out suddenly for no apparent reason. The way that a candle burns can hold hidden significance about other worlds, the energetic of a room, the direction a ritual is going, the presence of otherworldly ancestors or any number of spiritual occurrences.For thousands of years, candles have been employed for spiritual insight. As a conduit for fire, the candle represents illumination in the dark, for both the material world and the spirit realm. The open flame is an avenue for communication to other realms of existence, making it useful for carrying prayers, transmitting chants and asking questions. One would light a candle to accompany them on journeys through darkness and unknown territory. The candle also symbolizes consumptive power, elemental magic and transformation. It is the ideal tool to have for conducting spells and practicing magic, positive or negative.The way a candle burns has everything to do with what is happening around us. Invisible energy, much like the air, vibrations, or magnetic forces, influence the events that happen around us. If we pay close enough attention, our interpretations can help us decide what to do next or where to go from here.
Candles are used in many popular healing therapies including color therapy, aromatherapy, and as a meditation aid.  The right candle enhances the atmosphere, promoting clarity of thought and enhancing relaxation and focus.
The scents of essential oils are known to stimulate the area of the brain that controls moods and emotions. The aromas of essential oils can reach deep within the mind and recall forgotten difficult feelings and help release them. They can help relax, restore inner peace and bring uplifting feelings.When you smell an essential oil, molecules from that oil make contact with your olfactory epithelium—that is, the lining of your nasal passages. These molecules interact with receptors that send signals via sensory neurons to your brain.Your brain sends signals back out from the olfactory bulb via messengers called mitral cells. These cells trigger scent perception in another part of your brain called the olfactory cortex. That's not the only place they go. Mitral cells also carry signals to other areas of your limbic system—the part of your brain that's responsible for emotion, behavior and memory.So it's only natural that smell would have a powerful impact on your psyche—and your overall wellness as a result.Essential oils—distilled from common plants like lavender, chamomile, rosemary, lemon, peppermint, eucalyptus, bergamot or ylang ylang—are the cornerstone of aromatherapy.Essential oils are highly volatile substances. They are largely held together by weak hydrocarbon bonds which disintegrate upon exposure to heat. The heat generated by a burning candle continually volatilizes any essential oils contained in the candle. 
Essential oils are complex, highly fragrant and volatile substances, with varying degrees of complexity, fragrance, and volatility. They are the most potent and concentrated extracts of various parts of flowers, fruits, leaves, spices, roots, and woods. The plant's essence molecules are approximately 75 – 100 times more concentrated as an essential oil than in the dried plant.
Aromatherapy Candles are the perfect solution to help with relaxation, anxiety, stress relief and for sleep preparation. All fragrances are handmade with 100% essential oils, our range of therapeutic candles fill your room with effective and beautiful scents.   Our Meditation and Ayurvedic candles create tranquil spaces to unwind and escape daily stress. Aromatic essential oils blends to relax, calm,  and energise your body and soul.
Possible essential oil combinations for homemade candles include lemon and peppermint, rose and sandalwood, cinnamon and orange, or lavender and eucalyptus. You can use your scented soy wax candle as a skin softener.Essential oils are obtained through highly labor-intensive processes which extract the vital essence of aromatic plants from the flowers, fruits, sap, seeds or skin of the plant, as well as the bark, leaves, roots, resins or wood of certain trees. These oils are often referred to as the "life force" of plants and contain unique and varied therapeutic properties. The soothing, gentle flicker of a candle is magnified by its tranquil scent. Or maybe the scent is effervescent, keeping you energized, getting you through a busy day.Essential oils used to scent candles contain antimicrobial and antiviral properties to help defend the body against illness.
Candle Oil Meanings
Peppermint, Mentha piperita: Useful in treating headaches, muscle aches, digestive disorders such as slow digestion, indigestion, and flatulence.
Eucalyptus, Eucalyptus globulus or Eucalyptus radiata : Helpful in treating respiratory problems, such as coughs, colds, and asthma. Also helps to boost the immune system, and relieve muscle tension.
Ylang Ylang, Cananga odorata : Helps one to relax, and can reduce muscle tension. Good antidepressant.
Geranium Pelargonium graveolens : Helps to balance hormones in women, good for balancing the skin. Can be both relaxing and uplifting, as well as antidepressant.
Lavender (Lavandula angustifolia): Relaxing, and also useful in treating wounds, burns, and skin care.
Lavender (Lavandula vera) : Helps to balance hormones in women, good for balancing the skin. Can be both relaxing and uplifting, as well as antidepressant.
Lemon, Citrus limon : Very uplifting, yet relaxing. Helpful in treating wounds, infections, and house cleaning and deodorizing.
Clary Sage, Salvia sclarea: Natural pain killer, helpful in treating muscular aches and pains. Very relaxing, and can help with insomnia. Also very helpful in balancing hormones.
Tea Tree, Melaleuca alternifolia : A natural anti fungal oil, good for treating all sorts of fungal infections including vaginal yeast infections, jock itch, athletes foot, and ringworm. Also helps to boost the immune system.
Roman Chamomile, Anthemus nobilis : Very relaxing, and can help with sleeplessness and anxiety. Also good for muscle aches and tension. Useful in treating wounds and infection.
Rosemary, Rosmarinus officinalis: Very stimulating and uplifting, good to help mental stimulation as well as to stimulate the immune system. Very good for muscle aches and tension. Stimulating to the digestive system.
Anise: This distinctive spicy scent is very good for colds, flu and sinus irritation.
Bergamot: The uplifting scent is citrusy and used to reduce anxiety and depression and ailments caused by them.
Clary Sage: This pleasing fragrance restores energy, relieves stress and promotes clarity of thought.
Frankincense: This oil has been used since ancient times for it's powerful cleaning and protective properties.  It is also used to relieve coughs due to asthma, bronchitis and other upper respiratory illnesses.
Jasmine: This distinct, floral fragrance is great for fighting exhaustion and relentless fatigue that can accompany many chronic conditions.
Neroli: This oil is used to reduce stress and eliminate insomnia.  It calms and promotes deep relaxation.
Monoterpenes: anti-viral, antiseptic, bactericidal, and can be highly irritating to the skin. Examples: lemon, pine, frankincense.
Esters: fungicidal, sedating, and very aromatically pleasing. Examples: bergamot, Clary sage, lavender.
Aldehydes: sedating and antiseptic. Examples: melissa, lemongrass, cirtronella.
Ketones: ease congestion, aid flow of mucus, can be toxic. Examples: fennel, hyssop, sage.
Alcohols: very antiseptic, anti-viral with uplifting qualities. Examples: rosewood, geranium, rose.
Phenols: bactericidal and strongly stimulating, can be highly irritating to the skin. Examples: clove, thyme, oregano.
Oxides: expectorant and bactericidal. Examples: rosemary, tea tree.
One of aromatherapy's most popular uses is as a natural stress reliever. Research points to oils from orange, sandalwood, sage and geranium as potent anxiety-reducers.
The most impressive of essential oils is lavender. Lavender has been found to be helpful in the treatment of a variety of problems. As lavender is anti-bacterial and anti-inflammatory, it can help fight infectious diseases and repair injured cells and lavender aromatherapy candles can stimulate the alpha waves within the brain which are associated with feelings of relaxation and focus. Lavender contains naturally-occurring linalol and terpineol, both of which act as relaxants to the central nervous system, so this may account for the decreased feelings of anxiety and stress experienced by those whose inhale it.Lavender essential oil aromatherapy can simultaneously aid both psychological and physical health.
Ylang ylang has similar capabilities. Research shows that aromatherapy with ylang ylang oils can significantly improve physical stress responses—like blood pressure and skin temperature changes—while boosting perceived calmness and relaxation.Try mixing both lavender and ylang ylang with bergamot. One clinical study revealed that inhalation aromatherapy using this combo of essential oils significantly reduced a long list of key stress markers—including blood pressure, pulse, anxiety, subjective stress and serum levels of the fight-or-flight hormone cortisol.
Aromatherapy candles containing lavender essential oil have become a popular choice because lavender can help heal a vast array of problems concerning both a person's psychological and physical well being.
Each essential oil has its own specific healing properties.
It is not just respiratory issues that can be eased with the aid of essential oil aromatherapy candles as each essential oil has its own specific healing properties.
Whereas some essential oils have just one or two healing properties, others have proved useful in treating a whole host of ailments.  For example, bergamot essential oil aromatherapy can help to ease problems of the digestive system, such as intestinal infections, and can aid skin conditions, such as eczema and psoriasis. It has can also be used in the treatment of anxiety and depression.
Of course this is just a small sampling of many healing oils available.  Often candles are created with blends of oils that compliment each other and promote specific types of healing.  Reiki candles, for example, are created using pure, clean burning soy wax with blends of targeted oils.  They have been designed to help the user focus on specific intentions.
For centuries, aromatherapy candles have been used as a form of alternative medicine. Today, many people may used candles scented with essential oils to experience the medicinal benefits contained in the oil. Many people also enjoy using them to alter the mood and ambiance of their environment.
Essential oils are the pure essence of flowers and herbs. Extracted from the roots, shrubs, flowers, leaves, stems, or bark of a plant through distillation, these essential oils are highly concentrated and incredibly fragrant.
The essential oil extracted from a plant is 100 times more concentrated than the scent of the fresh plant itself. Because these essential oils contain the distinctive scent and essence of each plant or flower they were extracted from, they are commonly used in medicines, perfumes, soaps and flavorings. In the process of candle or soap making, using essential oils is the only way you can scent a candle naturally.All essential oils have different healing, rejuvenating, antioxidant and skin regenerating properties.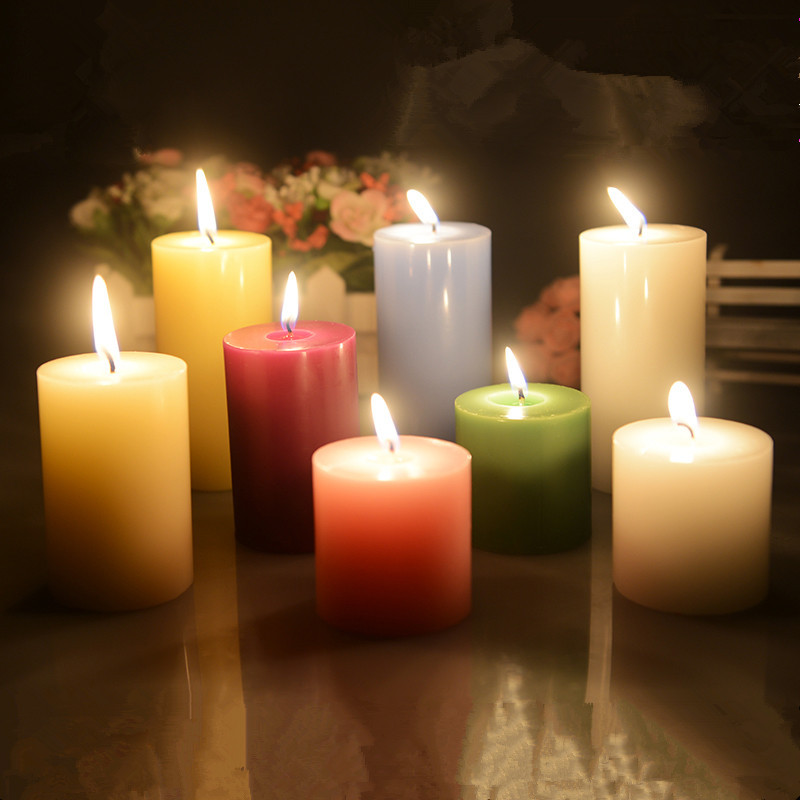 Our ability to pick up on a scent or to recall a memory via scent is incredibly powerful. When we take in the aroma of an essential oil, we process the scent through the limbic system of our brains. In the limbic system of our brains, our emotions are processed, our moods are stimulated, and our memories are stored.This is why we are attached to certain scents and may have an aversion to others. When we come into contact with a particular scent, our subconscious processes and reacts to it before we even realize it.Some essential oils like lavender promote relaxation and comfort while others, like lemongrass and citrus make us feel more alert and energized. Many essential oils are known to contain antibacterial, antiviral, and antiseptic properties, which can be used as an added defense against illness in your home.Depending on which essential oil you choose for your candle, there are many therapeutic, medicinal, and homeopathic uses for the oil.
Scented candles which have the power to be truly therapeutic contain essential oils.
Fragrance oils are a various mix of elements, some natural (from plants or even animals) and some synthetic. The elements are carefully blended to design a certain scent. Sometimes they are blended to mimic the scent of something that occurs naturally in nature, such as rose or pine, or sometimes they are blended to make its own unique aroma such as moonlit walk or autumn glow.Candles using fragrance oils are often labeled as "aromatherapy," however, they do not contain the therapeutic or medicinal properties of essential oils. However, the scent alone of fragrance oils can alter your mood by cheering you up or mellowing you out. Many people enjoy fragrance oils because any scent can be duplicated in a lab, giving them more scent selections at a much cheaper price.Unlike fragrance oils, essential oils are completely plant-based and 100% natural. Essential oils often contain the medicinal and therapeutic properties people are looking for when they purchase aromatherapy candles.
There is a huge variety of scented candles on the market; however, a lot of these are advertised as 'aromatherapy candles' but are made from potentially toxic products that can be more detrimental than beneficial to your well being. Many candles containing synthetic chemicals and fragrances are marketed as 'aromatherapy candles', so ensure that you read the contents information carefully.
We should also be aware that some candles may contain a small amount of essential oils that have been blended with artificial fragrances. Try and avoid these as the artificial fragrances will will also release potentially harmful chemicals into the air.We should try to avoid buying candles with thick wicks that require a metal rod to keep them upright as they may contain lead and release hazardous toxins when lit.
The wax that the candle is made from is also a crucial factor when it comes to buying aromatherapy candles for healing; avoid those which contain paraffin which is potentially harmful if burnt in an enclosed space. Aim to buy aromatherapy candles made from a vegetable wax, such as soy or rapeseed (or a blend of both) as both of these candle types have many advantages over paraffin candles, such as a 'cleaner' and longer burn.
Currently, in the world of candle making, there is a debate on whether it is best to use pure essential oils or a fragrance oil. Many people prefer to go the more natural route, using essential oils, while some people claim the fragrance oils are better because the scent is stronger and they offer more of a scent selection.
Exactly why essential oils are so effective in terms of healing the body is still unknown. Some oils can act as antimicrobial agents which have a pharmacological effect on the body. A multitude of ailments caused by an imbalance of psychological well-being, such as depression, can be improved with the use of essential oils.
Essential oils are more expensive than fragrance oils because they are 100% natural and often demand a lot of plant matter to make a small amount of oil.When you are purchasing a pound or an ounce of essential oil, you are basically buying hundreds of plants, but without having to extract the oil yourself. So as you can imagine, this greatly influences the price.
Some people have allergies or adverse reactions to certain essential oils as well as fragrance oils. Whatever oil you are using, it is important to make sure that it is skin safe. You can do this by testing a minuscule amount of oil on your skin and watching for any reaction.
The use of aromatherapy candles can go hand in hand with a healthier lifestyle, helping you to achieve greater well-being. The relaxation provided by aromatherapy candles can reduce the risk of the common symptoms of hectic lifestyles, such as high stress levels, anxiety and a poor quality of sleep.
Essential oils and their healing properties have been the centre of much research and the results have shown that using essential oils in aromatherapy can have a healing effect, not just upon the mind, but also the body. Many studies have shown that the inhalation of essential oils using aromatherapy candles has a positive effect on emotional well being and significantly reduces feelings of anxiety and depression. For example lavender and bergamot, also help to aid sleep and relaxation, both of which are essential in the body's recovery process.
Aromatherapy candles can also be helpful in the treatment of those who do not respond well to, or those who do not want to become dependent upon, conventional forms of medicine.
Essential oils carry the same healing properties that they did in plant form, so when they are included in an aromatherapy candle; they will give off the same energy. You can use aromatherapy candles during prayer, meditation, or when taking a quiet bath.If you are sick or ill, you can use aromatherapy candles with other essential oils for maximum healing benefits. It is important to make sure that your aromatherapy candle is crafted out of pure oil and not a chemical counterpart.
When choosing an aromatherapy candle, ensure that the wax and fragrance are natural. Choose those fragranced with essential oils (rather than synthetic fragrances) and try to choose one made from a vegetable wax rather than paraffin wax.
Aromatherapy Candles are the perfect solution to help with relaxation, anxiety, stress relief and for sleep preparation. All fragrances are handmade with 100% essential oils, our range of therapeutic candles fill your room with effective and beautiful scents. Our Meditation and Ayurveda candles create tranquil spaces to unwind and escape daily stress. Aromatic essential oils blends to relax, calm, and energize  your body and soul.One of the most important things in making candles with essential oils is their flash point. Find out what the best essential oils for candle making are by knowing their lowest safe temperature.An essential oil needs to have a high flash point to be used safely in melted wax. You will discover more about this in the second chapter.