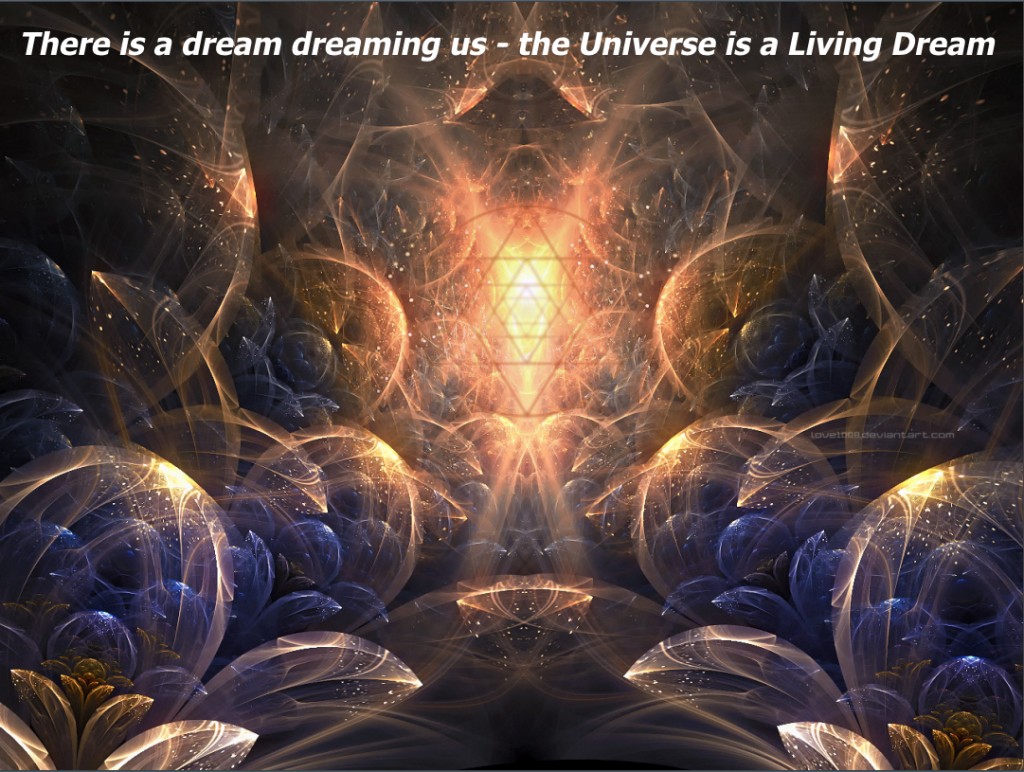 Dreams
There is basically no difference between the waking state and that of dream, except that one seems more stable than the other. Only after there is awakening in the form of enlightenment is it realized that the waking world itself is indeed nothing but a long dream resulting from mental disposition – a movement in Consciousness in which what seems a solid body and its sufferings are really an illusion.
Dreams are successions of images, ideas, emotions, and sensations that occur usually involuntarily in the mind during certain stages of sleep. The content and purpose of dreams are not definitively understood, though they have been a topic of scientific speculation, as well as a subject of philosophical and religious interest, throughout recorded history. The scientific study of dreams is called oneirology.
Dreams mainly occur in the rapid-eye movement (REM) stage of sleep—when brain activity is high and resembles that of being awake. REM sleep is revealed by continuous movements of the eyes during sleep. At times, dreams may occur during other stages of sleep. However, these dreams tend to be much less vivid or memorable.
The length of a dream can vary; they may last for a few seconds, or approximately 20–30 minutes. People are more likely to remember the dream if they are awakened during the REM phase. The average person has three to five dreams per night, and some may have up to seven; however, most dreams are immediately or quickly forgotten.[5] Dreams tend to last longer as the night progresses. During a full eight-hour night sleep, most dreams occur in the typical two hours of REM.
In modern times, dreams have been seen as a connection to the unconscious mind. They range from normal and ordinary to overly surreal and bizarre. Dreams can have varying natures, such as being frightening, exciting, magical, melancholic, adventurous, or sexual. The events in dreams are generally outside the control of the dreamer, with the exception of lucid dreaming, where the dreamer is self-aware. Dreams can at times make a creative thought occur to the person or give a sense of inspiration.
Dreams can be baffling and mysterious. Throughout history dreams have been associated with sacred revelation and prophecy. Moreover, it was a dream that revealed to a scientist the molecular structure of carbon atoms in the benzene ring. All this mystery can leave us wondering what a particular dream means to the dreamer, and we can argue about what causes dreams in the first place.
Yet, in spite of modern science, dreams still remain mysterious. Science can offer some explanation of how dreams are related to brain functioning, but only a psychological understanding of the unconscious can explain why a dream happens at a particular time of your life and what it all means psychologically.
A dream can warn us of potential danger.
Frequently things that trouble us crystallize in a dream.
Everyone who sleeps, dreams, including animals.
When you take a nap, you are ten times more likely to remember your dreams.
On average, we sleep for a third of each day. Take your age and divide it by 1/3 and you will know how many years you have been asleep, on the other side, in this lifetime. For example, if you are 30 years old, you have slept for 10 years.
Many dreams bring messages, some part of your soul's evolution.
It is important to realize that you never use the dream itself. That might sound strange, but think about it. When you tell someone about a dream, it's impossible to depict the jumble of images that you perceived while you were sleeping. All you can do is put the dream into words in an imperfect attempt to describe what you experienced. So, in the end, to talk about the dream you really talk about the text of your perception of the dream.
The text, of course, is language, and, as such, it's already a form of interpretation of the raw experience. So does it even matter if the images came to you because of random electrical activity in the brain or because of that greasy pizza you ate before going to bed? Your attempt to make sense of those images, wherever they came from, can still reveal something very important about your current psychological process.
Dream time is often a place of transformation for the soul where it awakens afterward enlightened about the next step on its journey into awareness. This is a time where the soul and mind process the path of the quest or who returns in higher frequency of thought and personal mission.
If you can perceive of your dreams as projected illusion, in which you are experiencing and learning, then so too shall you look upon your experiences in the physical, and unlock the mysteries of humanity.
From the point of view of dream time and other realms of conscious awareness, our reality is but a projected illusion in linear time.
Opinions about the meaning of dreams have varied and shifted through time and culture. Most people today appear to endorse the (Freudian) theory of dreams – that dreams reveal insight into hidden desires and emotions. Other prominent theories include those suggesting that dreams assist in memory formation, problem solving, or simply are a product of random brain activation. The earliest recorded dreams were acquired from materials dating back approximately 5000 years, in Mesopotamia, where they were documented on clay tablets. In the Greek and Roman periods, the people believed that dreams were direct messages from one and/or multiple deities, from deceased persons, and that they predicted the future. Some cultures practiced dream incubation with the intention of cultivating dreams that are of prophecy.
Sigmund Freud once called dreams the "royal road to . . . the unconscious. Sigmund Freud, who developed the discipline of psychoanalysis, wrote extensively about dream theories and their interpretations in the early 1900s.
He explained dreams as manifestations of our deepest desires and anxieties, often relating to repressed childhood memories or obsessions. Furthermore, he believed that virtually every dream topic, regardless of its content, represented the release of sexual tension. In The Interpretation of Dreams (1899), Freud developed a psychological technique to interpret dreams and devised a series of guidelines to understand the symbols and motifs that appear in our dreams.
Carl Jung rejected many of Freud's theories. Jung expanded on Freud's idea that dream content relates to the dreamer's unconscious desires. He described dreams as messages to the dreamer and argued that dreamers should pay attention for their own good. He came to believe that dreams present the dreamer with revelations that can uncover and help to resolve emotional or religious problems and fears. Jung wrote that recurring dreams show up repeatedly to demand attention, suggesting that the dreamer is neglecting an issue related to the dream. He believed that many of the symbols or images from these dreams return with each dream. Jung believed that memories formed throughout the day also play a role in dreaming. These memories leave impressions for the unconscious to deal with when the ego is at rest. The unconscious mind re-enacts these glimpses of the past in the form of a dream. Jung called this a day residue. Jung also argued that dreaming is not a purely individual concern, that all dreams are part of "one great web of psychological factors."
Fritz Perls presented his theory of dreams as part of the holistic nature of Gestalt therapy. Dreams are seen as projections of parts of the self that have been ignored, rejected, or suppressed.Jung argued that one could consider every person in the dream to represent an aspect of the dreamer, which he called the subjective approach to dreams. Perls expanded this point of view to say that even inanimate objects in the dream may represent aspects of the dreamer. The dreamer may, therefore, be asked to imagine being an object in the dream and to describe it, in order to bring into awareness the characteristics of the object that correspond with the dreamer's personality.Dreams that occur during sleep are unique and are connected to an individual's own life experiences, emotions and thoughts. Throughout history and within many cultures, dreams were believed to be spiritual messages and visions sent from a higher power or from the departed. Sigmund Freud and Carl Jung revolutionized dream study and interpretation from a psychological standpoint.
Certain dreams are common to many people, no matter their culture. In this room, dream themes will be described and explained, in the attempt to shed light on why we dream the things we do. Understanding your dreams will deepen the connection with your mind, body and spirit.
First, the dream story must be put into language. It's best if you write down the details of the dream immediately after you wake up from the dream. But sometimes it's possible to remember the story of a dream—or a dream fragment—even if you don't write it down. Really important dreams will stay with you even if you try to forget them.
Second, you have to describe thoroughly and understand your psychological associations to the various dream images. These associations must come from your personal life, not from a "dictionary" of fixed meanings. Essentially, this amounts to asking, "When you think of this particular dream image, what other things come to mind?"
Third, you have to discover the links between all these associations. This process is a bit like those "connect the dots" puzzles that reveal a hidden picture. Psychologically, you simply need to understand what this net of associations from the dream is telling you specifically, at this precise time of your life, about your current problems and conflicts. Quite often, these associations are purely emotional; that is, you can take a particularly graphic dream image, examine your emotional reactions to it, look back into your past for times when you felt the same emotions, and then ask yourself in what way those situations from the past have any bearing on what is happening in your life now.